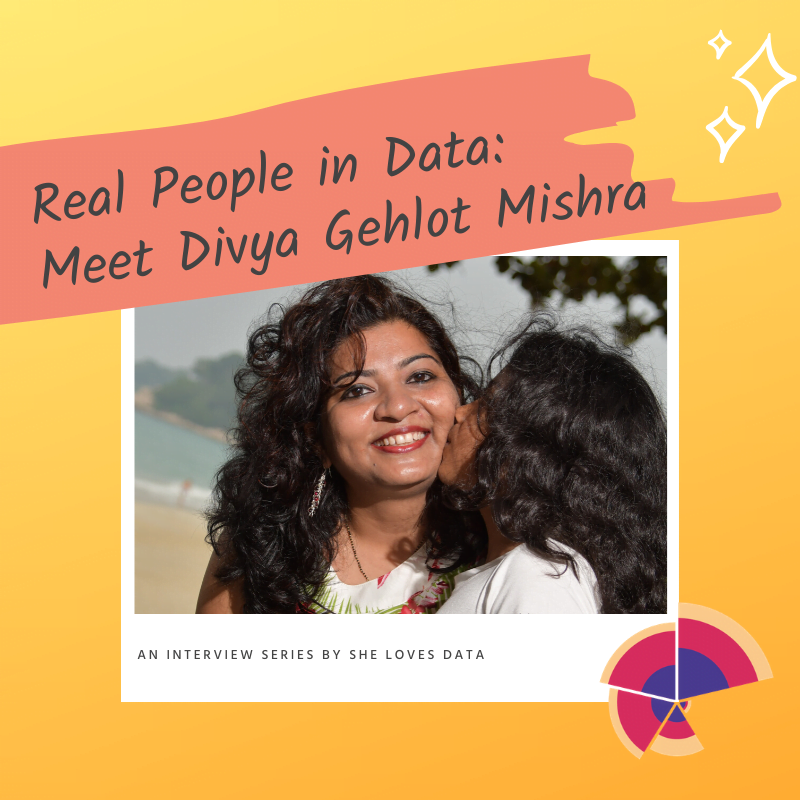 It can be a serious struggle to rejoin the workforce after a career break. Divya Gehlot Mishra knows this too well.  She left her job to be a stay-at-home mom and later returned to work in the competitive field of data analytics. How did she do it? It took grit and resilience to push past outright bias, but those weren't the only factors.
Read on!
How did you come to be a data analytics lead with Johnson and Johnson?
Most of the time I work on designing and building big data and cloud computing solutions. These are based on business requirements and my conceptual understanding of the technology. You can get training and become certified, but before I knew the role existed, I was in "dark mode". There was no clear path and I was basically led by my curiosity.
Wherever I went, I was usually the only "big-data person". It helped me understand people's perception of big data and I get to explore different tools. When I was with PayPal, I worked as a data engineer. However, I was also the one helping my team understand what big data was, back when it was still a new buzzword. I would attend meetup sessions to learn about how big data technology could fit into different business use cases.
Then I worked for a start-up where we needed to have a product on a big data platform. My role was to help people pick the right infrastructure, whether it meant setting up a data cluster on premise or on cloud. I provided the analysis on the pros and cons of choosing one option over the other. That got me started with doing a comparison of various data tools. When I picked up Apache Spark (a data processing engine),  I got exposed to dealing with bigger datasets. I basically learned Apache Spark by digging into the code on its Github repository! I kept learning and applying what I learned to the next organisation, which came to be Johnson and Johnson.
You previously quit your job to be a stay-at-home mom. What went into that consideration?
It's all a personal choice. When I had my daughter, I could have put her in childcare and then started working again or I could have taken time off to take care of her. My hubby said to me that at least one parent should be there with the kid. This is a special time for bonding with the kid. He asked me for a favour, could I be that parent? I thought, okay, I don't mind doing it. Even at that point of time, in my subconscious mind, the question was there: If I were to take a break, will I be able to return to work?
But back then, my priority was to take care of my daughter. I put my career goals on hold. I never stopped learning or doing my certifications though. When my daughter was around two and a half years old, I felt she was old enough and I could take time to refresh my career.
How was your experience returning to the workforce? 
I rejoined the workforce in 2015 after a lot of struggles. I started by brainstorming about what to do. Some of my friends took on some random jobs when they returned to work because they wanted to earn some money first. That was not for me, I don't mind working hard to get a job but I have to do something where I feel satisfied. I wanted to return to IT. I uploaded my resume and started looking for possible jobs.
My hubby supported my decision. He helped me with all his networking efforts, but somehow it didn't work out. My mum would motivate me, saying that it was all part of the learning for me. I'm from India, where there's this saying where you are entitled to focus on your karma, but not its fruits. Sometimes you have to wait patiently to taste the fruits of your hard work. That's how it happened with me. I would say it took me one and a half years to land a job in IT.
Many interviewers told me, "I don't think you can be a developer or be in the IT industry as you have such a long break in your career". I disagree. I took on freelance projects. To truly understand how things work, I did things like set up the Hadoop cluster on my own machine. That helped me so much for my interviews.
There's this misconception that if somebody takes a break, this means they can't do the work. I believe you should look at the person's calibre rather than how different their resume may look.
Are there particular learning points you wish to share? 
When I was learning about big data  such as Hadoop architecture in 2010, there were not many resources beyond white papers. Today, you have many resources, including blogs and youtube channels.
You don't need to know how to use as many tools as possible, but knowing about the fundamental differences between the tools will help you. You will be able to make informed decisions when you do need to use the tools. For example, you won't have to worry about the compatibility of Apache Spark with Scala-based (a programming language) solutions if you know that Spark is written in Scala.
Are you working on any passion projects?
I do have some in mind, like blogging or making videos to help people learn, but those are on hold for now. Maybe I'll start on those when my daughter is more grown up.
It's about having some work-life balance, and I'm also involved with BigDataX. I currently head the curriculum team. Running whole-day technical workshops does take a lot of effort—you have to consider many angles, including the participants' mixed backgrounds and how they might understand the material—but for us, it's about giving back to the community.