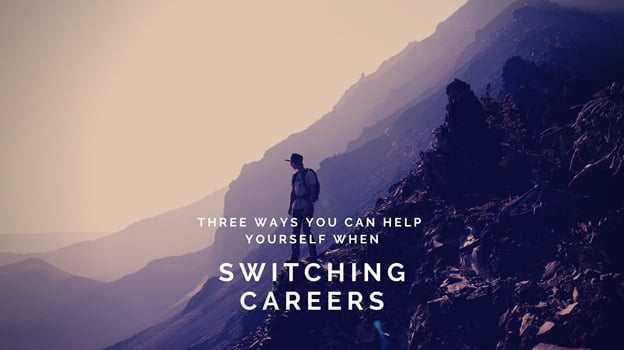 Thinking of making a career switch, but feeling stuck? Afraid that having a history of job hopping might scare off hiring managers? I got to know Rui Qing, a lady whose petite frame belies her sass and candor. She's a co-organiser behind one of the biggest data engineering community groups in Singapore, BigDataX. She has also been through the ups and downs of making a jump from a traditional career.
As always, hindsight is 20/20. We observe some common themes emerge on what works and what doesn't. Here are three ways you can help yourself when switching careers:
1.   Identify your 'why'
Depending on the prevailing attitudes towards work in your community, you may face questions, disappointment, criticism, or a combination of all three and more from those around you. Realise that sometimes people may be projecting their own fears of inaction onto you.
It's important to be clear on what matters to you – why you want this career switch. Perhaps you desire a certain lifestyle or you want to be part of solving a certain problem. Be honest with yourself. Identifying your 'why' comes before figuring out the 'how'.
Rui Qing would draw up a list of two to three life priorities for the year, which she discusses with her husband. When taking up a job role, she ensure there's alignment with those priorities, often reflecting on her 'why' and what has changed to affect the 'why'. This helps her stay firm even when going against the grain. Rui Qing still listens to what others have to say, but doesn't feel compelled to justify her actions. It's a massive load off and people can sense her confidence.
2.   See possibilities where Art meets Science
Perhaps you realised you're particularly drawn to telling stories or improving urban greenery, but you don't have a clear job idea yet. That's OK. It can be difficult to see beyond our own work history and that of our friends and family, to come up with ideas. However, many fresh, exciting possibilities exist when we expose ourselves to new ideas and environments.
One simple way is to explore how ideas and practices from one field can inform the other. Sometimes, it's the jobs found at the intersection of culture and tech (or other seemingly disparate fields) that may be a fit for you. Think community manager for a tech firm or data analyst for an art gallery.
Rui Qing's interest in heritage and background in information systems found her working in the IT department of Singapore's National Heritage Board in one of her earlier jobs. She stepped up to work with curators while her colleagues steered away. She was also able to capitalise on more than a decade's worth of experience volunteering with museums to inform the support given by her IT department to museums. This enriched her work experience and even led to a leading role in a project to digitally archive exhibitions. Later on, she found roles in industries as varied as fresh produce and advertising. By marketing for BigDataX, Rui Qing has been carving out a niche in bridging tech and non-tech functions, and she's presently looking to apply her skills in new fields.
3.   Find your community
This is not about finding people already doing your target job and trying to replicate their success. (However, if you do have a clear job idea and you have access to people in working in such a job, that's incredible! Learn what you can from them!)
Instead, this is about recognising that your journey as a career switcher will probably come with roadblocks, twists, and turns. You'll need support. In the words of famed entrepreneur Seth Godin, build a "tribe". To begin, all you need are a shared interest and a way to communicate.
Rui Qing describes her "tribe" as a group of people who quietly inspire her and make her want to be a better person. They are her role model in values and ethics. The community is diverse, open, non-judgemental, and honest:
A quiet go-getter in her 40s whose freelance work is highly sought-after in her industry.
A retiree in his 60s who embodies zen
An entrepreneur in her 40s who is always unfazed. Typically smiling or laughing, she juggles a heavy workload without getting angry or frustrated.
Rui Qing's dad who has never insisted nor prevented her from doing anything, but simply asks for the rationale
Rui Qing's husband who is her exact opposite. He is always supportive and patient, even if he would take a different decision from her.
Being clear on the 'why', seeing beyond the art-science dichotomy, and finding a community have helped Rui Qing in her career search. What have you found helpful in your own journey? Let us know!